Who are we ?
By its involvement within Bordeaux Wine's Interprofession (the CIVB) and its daily interaction with professional and administrative authorities of the region, Bordeaux Négoce is a key regional stakeholder, politically, by jointly defining the industry's strategies, as well as economically and socially, because Wine Trade companies bring life to urban, suburban and rural areas.
Represent, consult, advise
Bordeaux Négoce: slightly more than 80 member companies, so it represents more than 98% of wine trade activity for wines of the Gironde.
It represents approximately 3 billion Euros of turnover and more than 3 500 direct jobs.
Its role is to be:
a source of inside information and guidance for its members,
a place for consultation and decision-making,
a creative and representative force for this professional category.
Bordeaux Négoce sits on the Executive Board of the CIVB and of the Regional Committee of the INAO, and works in close collaboration with the sphere of viticulture grouped together within the FGVB (Fédération des Grands Vins de Bordeaux).
Our Members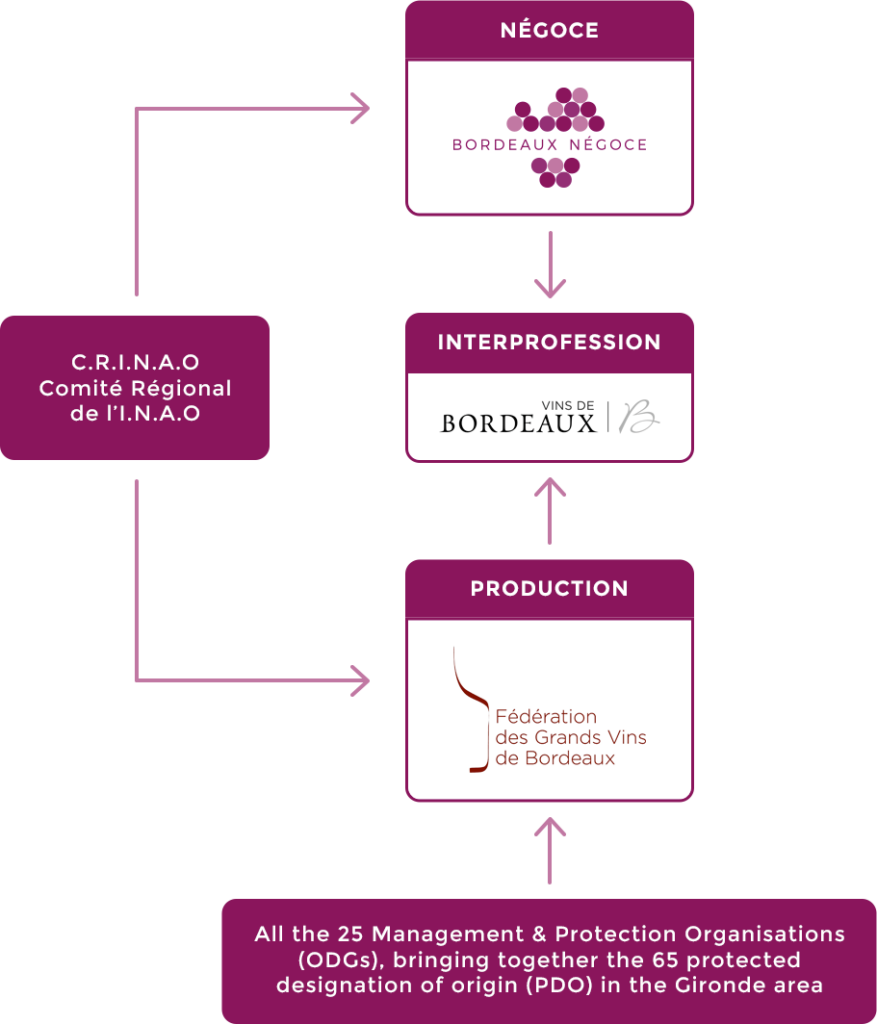 Chaired by Lionel Chol (Castel Frères), the Board of Directors decides collectively on the orientations for Bordeaux Négoce.
It is comprised of 32 members.
Christophe BERNARD
(SOBOVI)
Thierry DELEAN
(YVON MAU)
Franck LEDERER
(MAISON GINESTET)
Fabrice BERNARD (MILLESIMA)
François DUGOUA
(ULYSSE CAZABONNE)
Philippe LEVEAU
(CORDIER)
Gérard BLANLOEIL
(CLARENCE DILLON WINES)
Jean-Pierre DURAND
(A.MOUEIX/JULES LEBEGUE)
Jérôme PILET
(CIE MEDOCAINE DES GRANDS CRUS)
Patrick BOUEY
(MAISON BOUEY)
Jérôme FAUGERE
(JJ MORTIER)
Nicolas PRADEAU
(BALLANDE & MENERET)
Benoit CALVET
(BENOIT ET VALERIE CALVET)
François GILLET
(QUIEN & CIE)
Roland QUANCARD
(CHEVAL QUANCARD)
Philippe CASTEJA
(BORIE MANOUX SA)
Didier GRANDEAU
(GRANDISSIME)
Lionel RAYMOND
(MAISON RAYMOND)
Pierre-Antoine CASTEJA
(JOANNE FR)
Véronique HOMBROEKX
(BARON PHILIPPE DE ROTHSCHILD)
Yann SCHŸLER
(SCHRÖDER & SCHYLER)
Jean-Baptiste CHEYLAC
(JM CAZES SELECTION)
Thierry GABET
(SOVEX GRANDSCHATEAUX)
Allan SICHEL
(SICHEL SA)
Jean-Raymond CLARENC
(CRUS ET DOMAINES DE FRANCE)
Patrick JESTIN
(C.V.B.G.-DOURTHE-KRESSMANN)
Philippe TAPIE
(HMS)
Lionel CHOL
(CASTEL FRERES)
Laure JOHNSTON
(NATH. JOHNSTON & FILS)
Emmanuel TESSANDIER
(AMBROSIA)
Thierry DECRE
(LD VINS)
Frédéric LAVERGNE
(LESTAPIS et Cie)
Jean-Baptiste TREGUIER
(MAISON LE STAR)
Our Team
The team of permanent members of staff consists of three people, who devote their energy to the service of the members, in order to assist them daily for the requirements and distinctive aspects of their activity: product regulations, commercialisation in France and for export, Human Resources support, participation in promotion activities…
This team also prepares the work and content for the Board of Directors' meeting and implements its decisions.
Our Services
How to join Us ?
Catherine DUPERAT,
Manager,
Wine Industry Law
Amélie BONNIN,
Deputy Manager
Jurist, Wine Industry Law
& Social Affairs
Florence VARAINE,
Executive assistant